Aquatics
The hub of summer activities for all, Buck Hill's olympic-sized outdoor swimming pool was dedicated in 1936. The swim area is wrapped in peace and privacy, tucked away from view in a wooded setting.

The pool features a separate shallow wading pool, 25-yard lap lanes, diving boards, graduated depth, a platform "island," and a full staff of certified lifeguards.

The pool is accessible to all via a chair lift for those with limited mobility.

On dry land, dozens of lounge chairs allow guests to bask in the sunshine or relax in the shade. A lovely flagstone deck leads to the Pool Grille, and family storage cabanas are available for rent nearby.

Buck Hill Falls hosts an active Swim Team, an annual Cannonball Tournament, and many other pool events.



LEARN TO SWIM
Lessons are available for swimmers of any level. Schedule coming soon.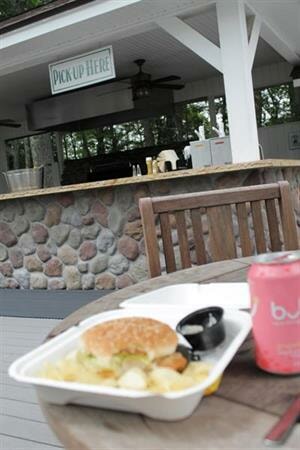 Loading ...

DRESS CODE
Appropriate swim apparel is required. Cut-offs or other non-swimwear substitutes are prohibited.
Outer cover garments are not allowed in the water. Swim-specific rash guard or SPF garments are permitted.
Shoes must be removed and stored at the shoe rack near the pool area entrance.
THE POOL GRILLE
The Pool Grille serves a spacious patio area with tables and chairs. Snacks, hot and cold meals, and beverages are available for patio dining or takeaway meals.



CONTACT THE POOL
570-595-3274